American Giants Dance Through the Winning Poster of Sanfermines 2018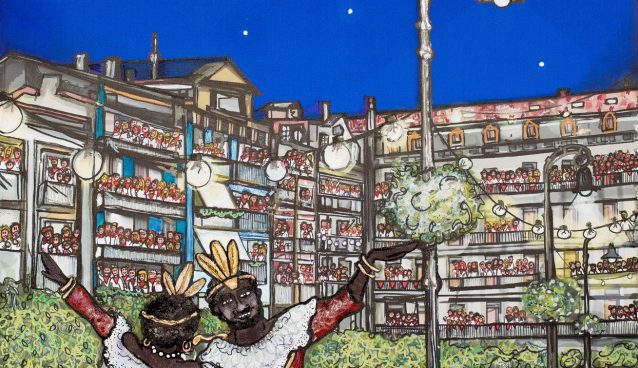 The poster, titled, "Pamplona , City of Lights " will announce this year's Sanfermines and was entered by Adriana Eransus, native of Pamplona , and the fifth woman with a winning design.
The idea is that Toko-Toko and Braulia are dancing to the song "City of Stars " from the film, "La, La, land". It´s author's goal was to show Pamplona as a city of light, harmony, fun and diversity, opposing the attacks that the fiesta has suffered lately.
 Andiana Eransus wanted to illustrate the Pamplona she loves – "its purity against all the negativity and unjust prejudices that have lately surrounded the fiesta. " Pamplona is and will always be a city of lights," she explains.
The poster with the Giants dancing is situated in the Plaza del Castillo with its enchanting atmosphere and is captured with pastel colours and the beloved red and white of Sanfermines of the Giants and bystanders.  Looking closely, one can see an image of San Fermín on the balconies beside the initials SF in the look for Wally style.
Some 6,511 people who live in Pamplona presented their posters in the contest – 829 more than in 2017.  "Pamplona, city of lights" won over 332 posters.