Bye bye to the Miuras and bye bye to Sanfermines 2017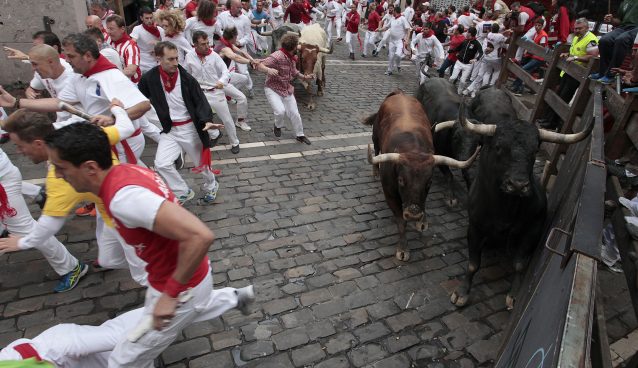 The people of Pamplona are generally very slim, but they like their bulls   very, very big. Take for example the Miuras from Sevilla that ran this morning, the 14th of July, and last encierro of Sanfermines.  Nevadito weighed in at 660 kilos, but a few extra kilos of fat didn´t slow down this legendary tribe one second. They flew faster than the wind and faster than any other bulls in the encierros of Sanfermines 2017. lasting two minutes and 10 seconds. The bulls were so focused on their objective that only 13 men were taken to the hospital complex of Pamplona. Imagine being stepped on or swept aside by animals of this size – it could have been a massacre, but the Miura are not like that.
With wind blowing, from the very start at Santo Domingo, the bulls took the lead ahead of the oxen. After the curve of Mercaderes, trouble began. The speed of a bull carried a runner with him.  But this was only the start. Something similar happened at the end of Estafeta, when one young man was "shaved" in the face by a horn.
The greatest surprise was left for the entrance to the ring.  The bulls were ready for this to end, and spread out to the right against the fence – exactly where the most runners had huddled, trying to escape certain danger.  Were there any gorings?  Fortunately, no. One Miura did rip through the pocket of the trousers of a runner, threw him up into the air and then to the ground. He was taken to hospital with a traumatism.  But he wasn´t the only one.  Another runner in the very same point hit his head against the fence, literally scalping him. One more runner left behind the encierros with a broken arm, and there is also news of a facial trauma.
All in all,13 have been taken to hospital, among them all those with traumas.  A Sanfermines with seven gorings – two remain in the complex today.
These bulls have been coming to Pamplona  for more than 60 years, and this afternoon they will be fought by Rafaelillo, Javier Castaño and Rubén Pinar.  So it is goodbye to these bulls until next year. Also, the shepherds Miguel Aráiz (Rastrojo) and Vicente Martínez (Chichipán) have retired. After more  than 30 years keeping  watch over the runners, next year, these men will be watching the encierro from the fence.