Chupinazo 2016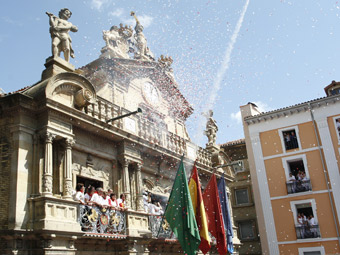 With tears in his eyes, Jesús IIundáin, "El Tuli" launched the rocket at noon from the balcony of the Town Hall announcing the beginning of Sanfermines 2016. The plaza of the Town Hall was full to the brim with young and old, their t-shirts already pink from splashes of wine. Photographers who dared to mix  with the enormous crowd in the plaza covered their cameras with plastic.  Everyone with red scarves waiting for the most exciting fiesta in the world to begin.  "El Tuli", accompanied on the balcony by the mayor, Joseba Asirón, stumbled over the Basque words that wish visitors and those from Pamplona a wonderful fiesta, but his words were echoed by thousands of voices filling in the blanks.
For the first time, popular votes elected "El Tuli", 85-years-old, to shoot the rocket into the air from among six candidates for his contributions to the joy of the fiesta. In other years the beginning of San Fermín belonged mainly to politicians.   "El Tuli" is well-known in Pamplona for being the first person to kneel and sing to the saint before the running of the bulls, the first member of the "peña" or club Los Bronce and has many, many other merits. This man had hoped all his life to be given the honor of launching the rocket to begin his beloved Sanfermines. His dream came true today.
Now the streets belong to the fiesta – dancing, drinking, laughing with joy – when no one is a stranger.