Don´t be shy at lunchtime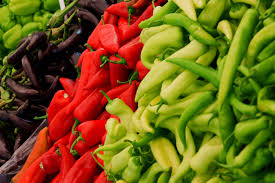 If this is your first fiesta of San Fermín, and especially if your Spanish is a little rusty, here are a few suggestions.  Take a deep breath, and don´t worry about your accent.  Disclaimer:  this is far from a restaurant guide with their ratings of gold stars and silver forks.  We, at the OIP, just don´t want you to go hungry or shy away from food you may not recognize.
Lunch is the main meal during Sanfermines, so we´ll begin with possible starters: "magras con tomate" . There are dozens of ways to prepare this delight.  Purists stick to tomatoes and ham, but creative cooks add garlic, onion and another famous protagonist – the "Pimientos de Piquillo" from the region of Lodosa.  If you happen to be in Navarra in the fall, you´ll see strands of bright red peppers hanging from buildings in Lodosa, but they are available now to buy in tins or jars , and, best of all, try them at a bar or restaurant in Sanfermines.
The following dish is not so typical of Navarra, but during the fiesta, nothing is better than "huevos fritos con jamón" or fried eggs and ham.  Gives your stomach a rest.
Before continuing on to the heavy eating, we can´t forget "espárragos de Navarra" or, as you can probably guess – the famous asparagus of Navarra.  It is white or cream colored and has a texture easy on the tongue.  One of the many vegetables that are grown in the gardens or fields of Navarra.  All this reminds us not to forget the dish called "menestra de  verduras" or a kind of thick vegetable soup or stew, eaten now, where you can find any and all these vegetables depending on the imagination on the cook.
Heavier dishes could be, for example, "pochas", a variety of white bean, grown in and around Navarra.  There are many recipes, but trying them is a must. Also think "chorizo" swimming among the beans.  Delicious.  We highly recommend a plate of red beans with collard greens or bacon called, "alubias rojas".
Don´t think you´re finished because now come heavier second courses like the tail "rabo" of the bull or "bull stew".  A new way to come closer to the animals that you see in the ring or in the "encierros" with no danger.  Its competitor in the fiesta is "cordero al chilindrón" or lamb stew with tomato sauce and vegetables, and to give the stew a special touch, sometimes dried peppers are added.  Another favourite choice might be "relleno con tomate" or stuffing made with rice and eggs.  And let´s not forget fish.  One special plate is "bacalao al ajoarriero" a codfish stew with vegetables, garlic and tomato.
It´s time for coffee, dessert and …don´t do the unthinkable and not order "pacharán", a liqueur of endrina berries and anis that was first concocted in Navarra and is traditional to drink after eating while you sit at your table and talk for hours and hours.   Also the wine from Navarra is incredibly good as well as many local beers in Pamplona – perfect to accompany your meal.
By this time you may find yourself thinking of nothing but eating–from your refrigerator or in a bar or restaurant.  We have what is called a food complaint paper if your favourite plate has not been mentioned here.  If you want to add to our list, you can do so in Facebook, twitter in the hasgtagNoTeVayasDeSF165SinProbar.  We would appreciate all your suggestions.  Just don´t go hungry!