Flights from and to Frankfurt, linking Pamplona, are about to take to the skies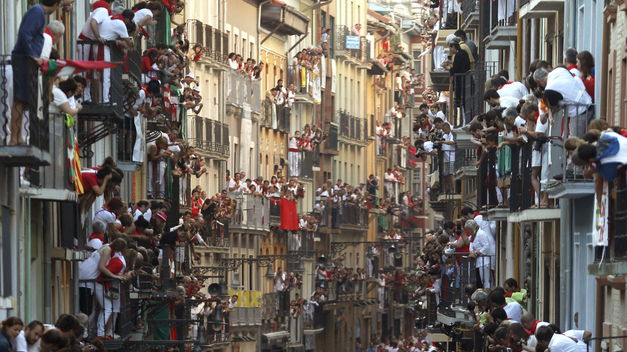 Beginning on November 6, the airport of Noan will have a direct flight to Frankfurt, Germany, according to the Vice President of Economic Development, Manu Ayerdi.  Lufthansa operates from the hub of Frankfurt that is the main center to other countries. The airport of Frankfurt is the largest in Germany and one of the most important air hubs  Now, those who fly from Pamplona can connect with a flight to Frankfurt and from there to other,many destinations.
The flight Frankfurt-Pamplona will operate on Mondays, Wednesdays, Fridays and Sundays at 9:30 a.m., arriving at 11:30 a.m.  The flights Pamplona-Fráncfort are on Mondays, Wednesdays, Fridays and Sundays at 12:20 a.m. and arriving at 2:30 a.m. The plane is an Airbus A319 with 138 seats, internet , has business and economy classes and will offer  free tidbits to eat
According to Mikel Ollo, coordinator of Guias Turísticos de Navarra , "German tourism in Sanfermines, at least from out data is still not significant.  This year we had eight clients from Germany in balconies out of 1,200 that we manage, and so it was a small percentage. We have no knowledge about whether or not these clients came to Pamplona on a direct flight or by way of Bilbao or other ways. What we can say is that clients from 34 different countries this year we have covered 96% of the places offered on balconies. The majority are still the ones who ask most ask for our services, followed by Latin Americans and the rest of the world."
Ollo adds that this year tourism from Asia and concretely  from China has climbed spectacularly …almost to a ten percent of our clients.