Fourth "encierro":  Masses of runners on July 10 and, so far, two gorings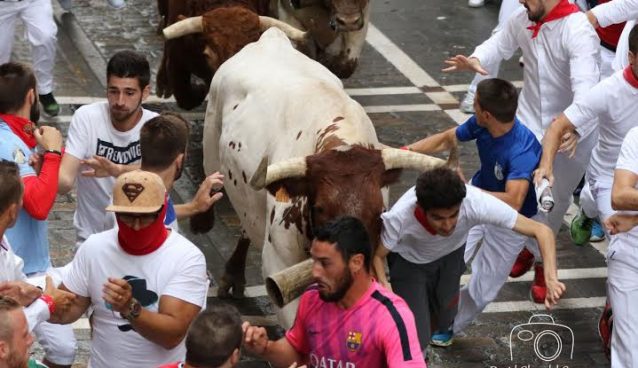 Bulls from the ranch Pedraza de Yelte debuted in the "encierro" of Sanfermines this morning, crowded by Sunday runners.  The "encierro" could have been much more dangerous than it was for the tremendous number of runners. This morning there were five runners attended to, with two of them, gorings. One runner was gored in the neck (12 cm), and, after being operated on in the bull ring, was taken to hospital in serious condition. The second goring was in the armpit of the runner who was also treated first in the bull ring infirmary and then taken to hospital. His life is not in danger.  The other runners were taken to hospital for trauma.
The "encierro" was a fast one – lasting two minutes and 30 seconds in spite of the fact that the bulls had to race through a tremendous mass of people who elbowed their ways into  good positions to run. There was also the usual "hugging" the bull and touching its horns, which is strictly forbidden.  The herd remained together during almost all the route with some spectacular falls and slides.  There were, however;  some spaces for good runs  in Estafeta Street.  Just before the curve of Mercaderes, another bull in the lead, tossed a runner up into the air.
This Sunday was a day for crowds of people everywhere – running, spectators hanging onto traffic lights, balconies and some, literally clinging to the walls like spidermen in Estafeta.