July 13,next to the last encierro – San Fermín almost forgot to look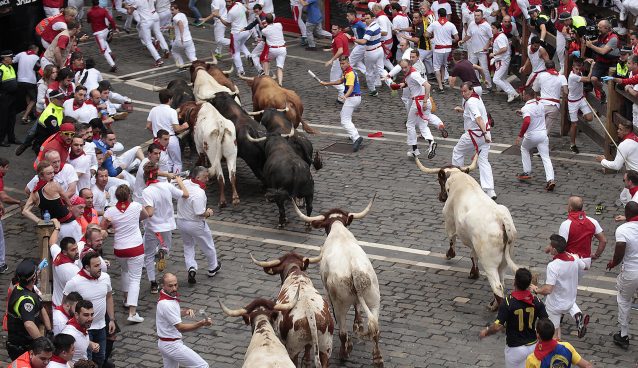 San Fermín must have lost his concentration for one nanosecond this morning of July 13 ,leaving two gorings and eight men with other injuries taken to the hospital complex of Navarra from the encierro. Shortly before, with their newspapers rolled in their hands and chanting to the saint from the beginning of Santo Domingo in between jumps of energy, the runners also exercised their arms and prayed – they did a lot of praying.
This was the eigth time that the bulls from Núñez del Cuvillo visit Sanfermines, and they came with the reputation of being extremely fast and extremely dangerous, having injured eight runners in seven other encierros. This time they gored two young men in two minutes and 15 seconds on the way to the ring. Nevertheless, when the herd had reached the doors of the corrals to finish their run, the bulls hesitated, then turned half way round, seemingly lost until the peaceful oxen arrived to guide them. The time was then two minutes and 40 seconds.
The encierro started off like a freight train (modern), with a reddish bull fanning off a little to the right with his horns shining in the sun. Suddenly an animal trampled a runner and gored him in the leg. The herd continued as fast as their hooves could carry them until in Estafeta, one of the four-legged brothers leaped forward and ran alone, permitting beautiful runs This bull ran so fast that the encierro runners had to crash from side to side like waves following the example of Moses.
At the end of the Estafeta stretch, in the street of Espoz y Mina, one bull gored a young man in the groin. Medical services attended another six , all of them taken to the hospital complex with traumas or other injuries.
Later in the afternoon, the Núñez del Cuvillos will face death in the ring, from the swords of Alejandro Talavante Antonio Ferrera and Ginés Marín.
More information will be available in the Medical Report.