Poor me!! "Pobre de mí¨: the fiesta of San Fermín reaches its end tonight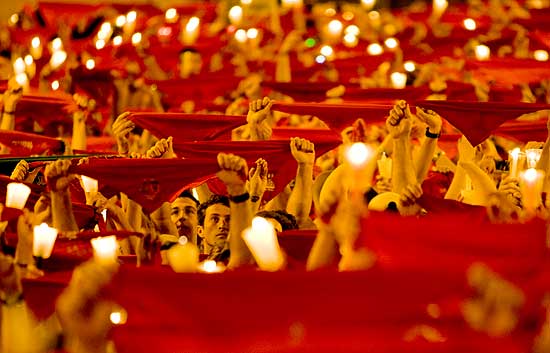 It seems impossible, but Sanfermines comes to a sad ending tonight, July 14.  It´s a day for saying good-bye to the Giants and their entourage, the last encierro, held this morning, the last bullfight in the afternoon and to all the friends you see only once a year during the fiesta.
The "Pobre de Mí" is a chant that fills the air at midnight in the plaza of the Town Hall when the Mayor, Joseba Asirón, steps out onto a balcony of the Town Hall to announce the end of this year´s Sanfermines and to remind the thousands who hold candles  that it won´t be too long until next year´s Sanfermines.  The chant is repeated several times, accompanied by a band of music that plays the San Fermín song, "uno de enero…" – the steps marked on the calendar  until once again Pamplona will be filled to the brim with happy fiesta-goers. The thousands of sad people crowding the cobblestones remove their red scarves, thinking that it was only yesterday when they were gathered in the same place for the "chupinazo" announcing the beginning.  In the Plaza del Castillo, the "peñas" or San Fermín social clubs watch the act on a giant screen with others who couldn´t fit into the Town Hall plaza, and in the Plaza de los Burgos,  fireworks speed into the air for a final adios.
Once the chants have ended, people  leave their scarves and candles at the door of San Lorenzo Church, in whose chapel rests the imagen of the saint. It is all over.  Some try to continue the fiesta one more night until the morning of July 15 when the "encierro de la villavesa" or running in front of a city bus takes place with no bulls and a few unhappy bus drivers.