Massive Attendance in the Sixth Mass of the Steps Towards Sanfermines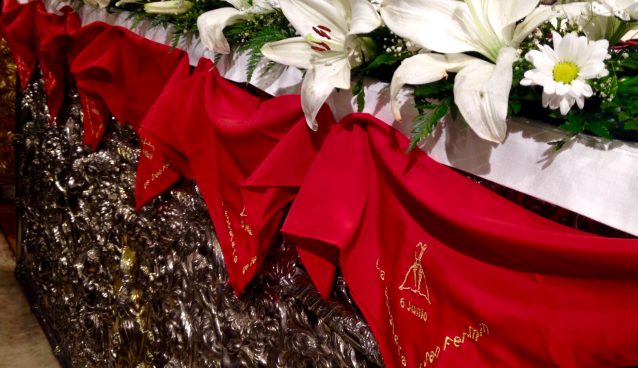 On the sixth of June, the Chapel of San Fermín celebrated the "sixth step" towards the fiesta which is the last step before the fiesta. The press and those tradesmen who helped restore the Chapel of the Saint were the protagonists of the offering to San Fermín.
Patxi Pérez, president of the Association of Journalists of Navarra, representing all the media in Navarra, placed a bouquet of red roses tied with a ribbon on which was written the date of the sixth step at the feet of the image of the Saint.  The parish priest, of San Lorenzo, D. Javier Leoz, spoke in his sermon of the work of journalists" before the arrival of the flood of news with the arrival of Sanfermines and during the fiesta, and he asked that all things be reported – the good and the bad because journalists are like the loudspeakers of the fiesta." In addition to representatives from the Association of Journalists of Navarra at the mass in celebration of the sexth step of the stairway to Sanfermines, there were also present journalists and photographers from Diario de Navarra, Navarra Television and Cadena COPE.
A representative from the different guilds that worked on the Church of San Lorenzo in the main nave as well as on the Chapel of the Saint placed the sixth red scarf on the altar.
Journalists and tradesmen and the director of the chorus of the Association "Pueblo Viejo de Barañáin" – group that put the musical accompaniment – and  D. Fermín Lasa, who was the parish priest of Cáseda and yesterday donated a chalice received from the hands of D. Javier Leoz a picture of the image of San Fermín were also present.
At the end of the sixth mass, a red flower offering was made to the saint by the parishioners who assisted the mass.  An enormous crowd of people filled both the Chapel as well as the nave of the church of San Lorenzo.
The celebration of the steps of San Fermín is an unusual countdown that begins on the first of January and advances up the steps of the calendar until the seventh of July. Ignacio Baleztena from Pamplona (1887 – 1972 ) composed the famous lyrics to the chant "First of January, Second of February, Third of March, Fourth of April, Fifth of May, sixth of July, Seventh of July  San Fermín…".
This chant is sung by  social groups, the Peñas, and groups of friends sometimes during a dinner every day of the steps until the fiesta. In addition to the popular celebration, since 2010 the steps towards Sanfermines are also celebrated with a mass in the Chapel of San Fermín.