Sanfermines finishes with tears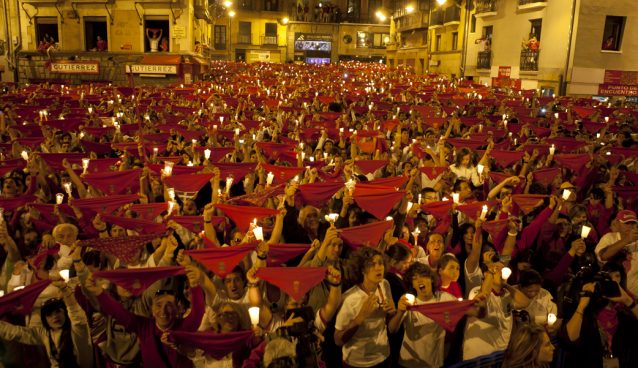 Sanfermines is taking its last breath. The ceremony called Poor Me or "Pobre de Mí" means that we can begin counting until next year´s fiesta. As is traditional, the act takes place in the Plaza del Town Hall at midnight with music and candles lighting the darkness.
But before this, there is still a lot to do and enjoy with a very small taste of goodbye in our mouths. The famous Miura bulls, eagerly for by fans, will run the route of the encierro for first and last times in their lives. The matadors will be Rafaelillo, Javier Castaño and Rubén Pinar in the bullfight of the afternoon.
The dance of the Giants , beloved act by all, is followed from 9:30 a.m. until 13 hours throughout the streets of Pamplona, from the Mayor street until they Giants and all wave goodbye from the Town Hall plaza. Municipal authorities will also go to the Octava of San Fermín at 10:45 hours at the parish church of San Lorenzo.
The smallest of all can still play with inflatable toys and games in the Plaza de la Libertad and the space Eirjolastu of the Taconera Park, both from11:30 am. to 14:00 hours and from 18:00 hours to 21 hours.
Before the Pobre de Mí, the last fireworks are shot up into the stars in the XVIII International Fireworks Competition by Alpujarreña of Granada. Afterwards, candles are lit and hearts and minds turn towards the chant . "Ya Falta Menos!. or "Less Time Remains".