Space to run with the Victorianosel Río if you could catch up with them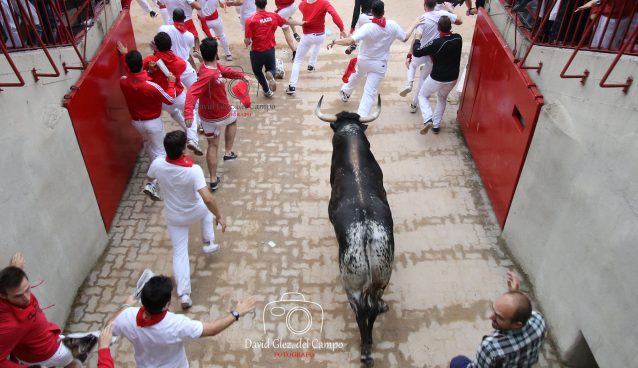 These Victoriano del Río bulls ran the fastest "encierro"  so far this year:  two minutes and 13 seconds on this cloudy morning.  This is their 7th visit to the fiesta ring- and the fastest.  In 2013,  they raced the "encierro" like champions in two minutes and 14 seconds. But today they beat their record. The bulls left the corral already speeding up Santo Domingo.  Four bulls soon passed the oxen running up Estafeta in a line, passing the "mozos" with no apparent interest in those around them who were able to carry out some beautiful runs, although short as they had trouble keeping up with the animals.  At the end of Estafeta,  a nut-colored bull fell and took only a few seconds to stand up, entering the bull ring with the oxen.
As of now, this very fast "encierro" was what we call the cleanest of all, discounting a few tramplings  with five runners taken to hospital for contusions, but no gorings.  One runner was attended to in the ring for a mild contusion.
This afternoon, the Victorianos del Río will face the following matadors:  Juan José Padilla,  El Juli and López Simón.