The Little ones also have their running of the bulls (encierro)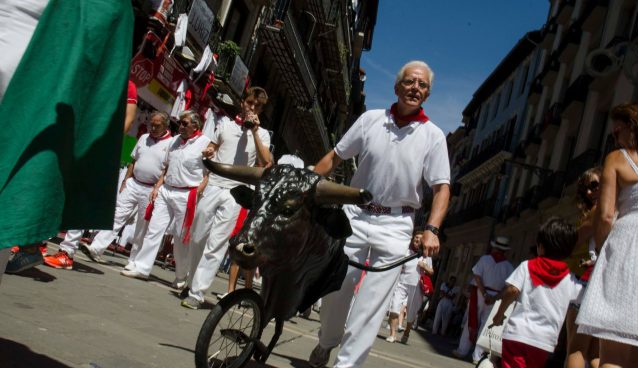 The famous encierro in Pamplona was thought of mainly for older runners.  Nevertheless, this doesn´t mean that young ones never dream of jumping out in front of the bulls on the route to the ring….and today, they can!  There is one difference though – the bulls are made of carton, and the time is 11:30 p.m.  The running of the bulls for the younger set is called the "encierro txiki", and it begins from the corrals of Santo Domingo and ends in the plaza of the Town Hall.  Six bulls and three oxen on wheels chase children and their parents, avoiding "gorings". There are four encierros, one after another, lasting some 20 minutes each, two for children with parents and two only for children.  The Federation of Peñas or Social Clubs and a group of runners are behind this initiative , already in its second year.
Today is the seventh day of the traditional encierros, and will feature bulls from Núñez del Cuvillo, de Vejer de la Frontera  (Cadiz).  They will be fought by Antonio Ferrera, Alejandro Talavante and a third matador, replacing Andres Roca Rey, who was gored in the bullfight of July 11.
This is far from being the only activity of of the day.  During Sanfermines, there is always music in the air.  In the morning, you can begin our music routel at the plaza of Town Hall and from Descalzos at 12:00 noon.  In the afternoon, at 18:00 hours, from Chapitela. There will also be  jotas in the Paseo de Sarasate at noon; music at the Plaza de la Cruz , at 13:00 p.m., at 20:00 p.m. and open-air dances in the the Plaza del Castillo at 19:00 p.m., 23:30 p.m. and concerts in the Plaza Compañía at 20:00 p.m. and at 23:45 hours.  Younger ones will have music at 20:00 p.m., a date in the Plaza de los Fueros with karaoke and the music of various djs.
Also at the Paseo Sarasate at 19:00 p.m., four Basque poetry singers show off their skills in improvised verses in Euskera.
The fireworks from Portugal- Macedos – will light up Pamplona´s sky at 23:10 hours from the Ciudadela.