The Museum of the Bull Ring Open Since the Beginning of May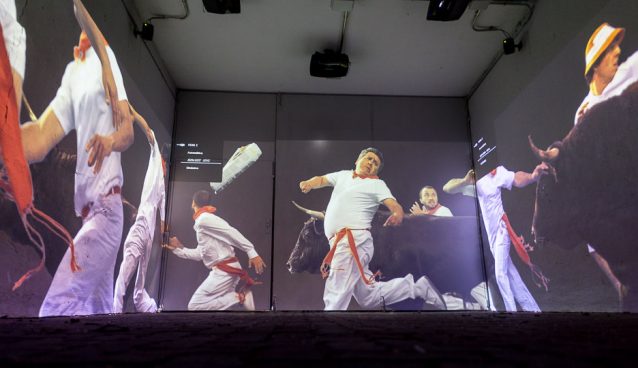 Since the beginning of May, the Museum of the Bull Ring is open to visitors from 10:30 am  to 7 pm.  There are autoguides and guided tours available to help appreciate every detail, lasting some fifty minutes.
The price of entry is five euros with discounts for retirees , students and groups (four euros per person).  Children, who are accompanied, from six to twelve years of age pay three euros and those less than six-years-old enter free.  Reservations can be made online (feriaderltoro.com) or by telephone – 948 225 389.
The idea behind this initiative of the Casa de Misericordia is not to turn the bull ring into a museum, but to help visitors understand better the life of the bull, a morning of the running of the bulls – encierro – or an afterrnoon at the bullfight in Pamplona´s ring.  Two elements aide in carrying this out :  the incredible bull ring itself and audiovisuals illustrating each scenario.  Image and sound are fundamental.  In addition to this,  visitors will have access to areas not seen by the public – the backstage of the bullfight such as the corrals, the chapel, the stables and the part of the ring where the bullfighters enter, called the Patio de Caballos or Patio of the Horses.  There is also an opportunity for fun.  Visitors can have their photos taken with a fierce dried bull, a matador or with his bullfighting cape.
Guided visits, lasting one hour in the morning, will be offered until June 17. The Museum will be closed during Sanfermines and will reopen around July 25.  This project was the idea of  Fernando Redón, an architect from Navarra who died in 2016.  The Casa de Misericordia invested 200,000 euros in this project.