The number attended in Emergencies of the SNS-O in Sanfermines 2018 descends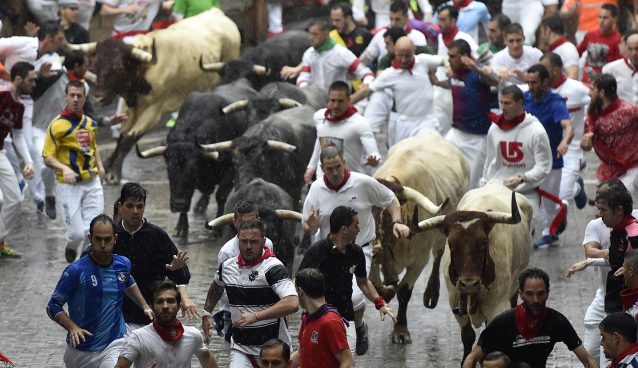 Fewer people were attended to during Sanfermines 2018 by the Emergency Services  and by extrahospital services (SNS-O) of Navarra. Between noon on July 6 and midnight on July 14,  a total of 381 of those directly related to the fiestas were attended to. This means 16.63% fewer than those of 2017, when the numbers were 457 attended, while in 2016, there were 427 and in 2015, 382.
Forty-two of the wounded are related to the encierro – a notable decrease with respect to last year, in which 64 were taken to the hospital complex of Navarra and another 339 other attentions related to the fiesta  rather than the 390 of 2017. It is important to stress that after the increase of wounded in the encierro with bulls registered in 2016, a total of 87 were duplicated the number of 2015 (41), its number descended to those similar to the average of years past.  Attentions for other reasons was reduced in a 13,07% (339 instead of 390 in 2017).
The Government of Navarra is grateful for the effort made these past days by the professionals of SNS-O, volunteers from the Red Cross, DYA, SOS Navarra and the healthcare workers in the bullring.
Fewer injuries in the encierros
A total of 42 people were attended to in the Hospital Complex of Navarra after running in the encierros of 2018 – lower by 34.4% – compared to 64 from 2017 and which do not even reach half of those of 2016 (87).  The number of people attended to by the SNS-O after the encierros of Sanfermines 2017 are similar to other years. In 2015, there were 41 runners injured, 47 in 2014 and 50 and 38 before that.
There were only two runners gored in 2018, all of them male, while in 2017, there were seven and 12 in 2016.  Since the year 1984, in 2018, the number of gored runners has never been fewer. The rest suffered other kinds of injuries, mainly traumas and contusions.
Only two of all those taken to emergency services  of the SNS-O with injuries from the encierro were women.  They were attended to for traumas after the encierros of July 8 and July 9. In 2017 only one woman was attended, and in 2017, one woman was injured in the encierro, and in 2016, two.
Looking at the different stretches of the encierro route,  Telefónica claimed the most accidents, with 16 people injured, followed at a great distance by Estafeta (6), Mercaderes, Ayuntamiento and Santo Domingo (five in each one of them, Espoz y Mina (3) and he Callejón (two injuries) The two gorings in 2018 took place in Santo Domingo and in the Ayuntamiento.
Other emergency care not related to the encierro
Other emergency care not related to the encierro were due to alcoholic intoxications, summing 161 (47.49%)  a number and percentage that is multiplied by four to those of last year (39). Of those attended to for traumas and wounds – 86 – was reduced in a 56.12%.  The rest of the attentions were due to intoxications from other drugs (16), aggressions (10) and other attentions (66).
The first weekend of Sanfermines  – July 8 – there were 76 attentions and on July 7, 70 , registered by hospital emergency services and extrahospitals. On July 6 and on July 14, Saturday, both with 36 and July 13, 27.
In addition to the encierro, the Red Cross and DYA collaborated in healthcare of first attentions, for a first level such as small traumas, cuts, fainting, falls, intoxications, and then they are sent, if needed, to the next level of attention (emergencies or extrahospitals).