The Procession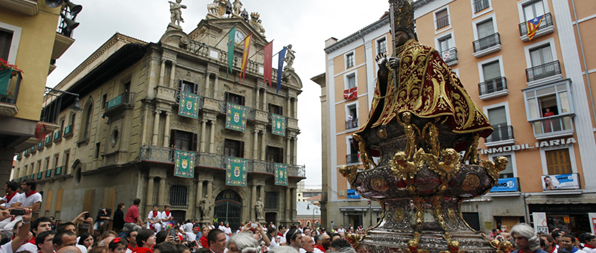 The Procession – one of the most beloved acts of San Fermín and one of the most unknown by visitors – takes place on July 7  at ten a.m.  Once a year, the image of the saint is carried through the streets of the old section of Pamplona, accompanied by multitudes of people and by municipal officials.  This is not only a religious event, it  is also an occasion for music, giants and their entourage of big-headed little figures and the outstandingly beautiful songs of homage to San Fermín.
Thousands crowded the narrow street and filled balconies along the way, with children on their fathers´shoulders  waiting for that magic hour.  At ten on the dot, the mayor, Joseba Asiron, and other municipal officials- all of them formally dressed- began the Procession, accompanied by the giants who were waiting for them in the Plaza of the Town Hall.  They walked to the Cathedral of Pamplona to meet the clergy , and then all headed for the the Church of San Lorenzo to the saint, patiently waiting.  From San Lorenzo, the Procession began from the Rincón de la Aduana to San Antón Street, the court of the saint carrying the image.  The group was led by the giants, the Cross of San Lorenzo and the Archbishop Cross, historic guilds of carpenters and farmers and representatives of the Hermandad de la Pasión del Señor from the Congregación Mariano, bag-pipers, Basque dancers and musicians and representatives of the peñas with macebearers clearing the street for the municipal officials.  At the end, the Pamplonesa band.
At 11:30, the "momenticos" or little moments began with the first stop in the Plaza del Consejo, where the Coral Santiago de la Chantrea sang the jota "Al Glorioso San Fermín.  The second little moment happened at the site of the well of San Cernín, dedicaded to Agur Jaunak.  On his return to the church, the saint was met with more music, "Vivas" and "Goras".
After 12:30 a.m. a mass was held in honor of the saint, led by the archbishop of Pamplona and by the bishop of Tudela without the presence of the mayor, Joseba Asiron. Put this event on your calendar for next year´s Sanfermines.