Town Hall Proclamation Appeals to Civic Spirit for Sanfermines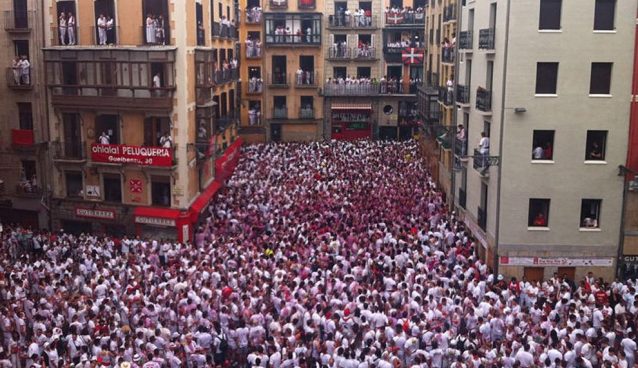 The Proclamation, signed by the mayor of Pamplona, appeals to civic spirit during Sanfermines such as obeying ordinances, traffic, organization of events, the Chupinazo, Encierro or the Encierrillo. The strategy to be used against sexist aggressions is also included.
The main novelty has to do with the Chupinazo, the usual prohibitions about entering the Plaza in front of the Town Hall and in the Plaza del Castillo with  support poles, glass bottles and glasses or unopened cans of drinks. Flags or large cloths under which there might be a numerous group of participants are forbidden because of the possibility of indirect or direct dangers
Against Sexist Aggressions
As was the case in former years, the Proclamation includes a description of the strategy, "Pamplona, Free of Sexist Aggressions". The Town Hall is asking all citizens to take an active part in stopping any type of aggression against women and to help of support the victim and protect her from the aggressor. The Town Hall will not tolerate and will legally pursue this type of behavior so that Sanfermines can be fiestas in which women can enjoy themselves freely, safely and equally.
Along these lines, the sale of materials such as t-shirts, pins, etc. with sexist writings or drawings are prohibited. If this is detected, the material can be confiscated. This order has as its objective to never stop moving towards the goal of fiestas free of sexist aggressions.
Traffic and Parking
Pamplona puts the orange zone into place for regulated parking including July 5 to July 14. Tickets can be bought for a maximum of 24 hours. Different zones are vertical with the information concerning the type of orange parking. The park meters will also show instructions and will only give out tickets with the cost of that orange zone. 
Parking is restricted for residents with cards of the areas 1 and 2, between Baja Navarra Avd., Conde Oliveto and Catalina de Foix – Avd. del Ejercito and the limit of sector 1 (Casco Antiguo or the Old Part).  Parking is also restricted around the Larraina and the streets Julián Arteaga, Sandoval and Navas de Tolosa. These zones are closed to traffic, except for authorized vehicles beginning at 8 a.m. on July 5 to 2 p.m. on July 15. 
In the Old Part of Pamplona, traffic will be closed during the same period in Arteaga or in the area of the Huertas de Santo Domingo, the plaza of Santa María la Real and the Taconera and the road to the Club Natación. The only people who can park there are residents with the card for zone 1.  Parking beside the Corrals of the Gas are for exclusive use of the residents of zone 1. Trailers or vans cannot be parked on city streets. Autocaravans, that are lived in except for special parking in Trinitarios.