Two weeks before the fiesta of sanfermines, the mayor signs an important proclamation concerning aggression against women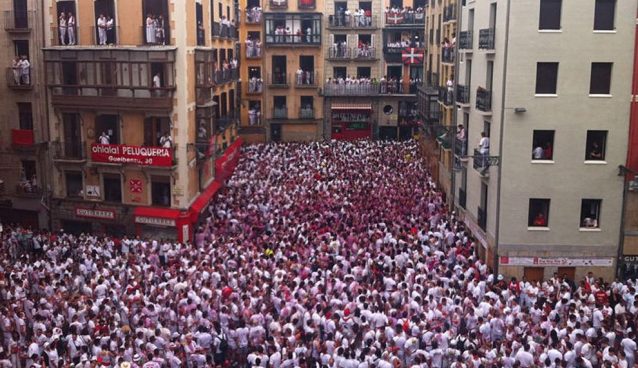 Two weeks before the start of Sanfermines, the Mayor, Joseba Asiron has already signed the Municipal Proclamation for the fiesta of 2016.  
Newly added is an important part dedicated specifically to the battle against sexist aggressions, inviting citizens to "adopt an active attitude"  Even the language in Spanish of this addition has no gender connotations.
Another novelty concerns the "orange zone" during Sanfermines regarding parking areas during the fiesta.  The proclamation also contains municipal regulations on traffic, security for balconies and façades, the "Chupinazo", the "Encierro", heifers, the "encierrillo",  the horse fair, agents for the functioning of these services and against sexist aggressions.  The Mayor´s message ends with these words:  Let us enjoy our city and fiestas with a sense of responsibility."
Concerning the battle against sexist aggressions:  "Sexist aggressions against women of any age or in any situation will be pursued and sanctioned."  The Town Hall, through its campaign, " For fiestas free of sexist aggressions", asks citizens to adopt an active attitude  against any type of aggression against women, to help or support the victim and to isolate the aggressor.  The Town Hall is determined not to tolerate and also to pursue within the law this type of behaviour so that women can enjoy the fiesta with freedom from violence and in equality.
Traffic and compliance with bylaws
The Proclamation indicates where one can and cannot park.  Like last year, traffic will be cut in the center of the city, and part of the "ensanches", and Pamplona will be converted into what is called an "orange zone" for parking during Sanfermines from 00.00 hours on July 5 until midnight on July 14.  The Old Part of Pamplona will be cut off to traffic from eight a.m. on July 5 until2 p.m. on July 15.  There will be temporary cuts to traffic during the fireworks in Vuelta del Castillo Street and in the Avenue of the Ejército as well as cuts during bullfights in Leyre Street, between Olite and Amaya Streets.
In the "Chupinazo", it is prohibited to carry sticks, glass containers, cans of drinks that are not open or any other element which could hurt another fiesta-goer as well as throwing eggs, balloons with paint inside, etc from balconies.  The "Encierro" is also included in the Mayor´s Proclamation concerning the hours of the event or access to the route, which carry fines.