José Escolar bull creates danger in the first Encierro of the weekend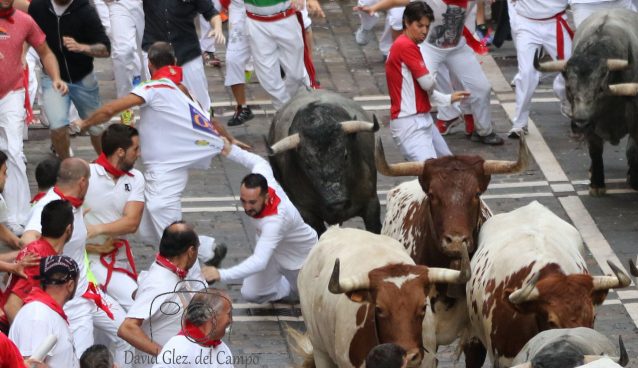 The third "encierro" of Sanfermines was a complicated one with one bull separated from the herd among masses of people ready to risk their lives on a Saturday morning.   According to the information we have at this time, two men were taken to the hospital complex of Navarra with horn wounds.
One the slope of Santo Domingo, one of the bulls, named "Señorito" hesitated between returning to the corrals or continuing  the route to the ring – exactly what happened last year. With the second group of oxen, called oxen brooms because they go behind the first group of oxen to "sweep" up any bulls left behind, the animal accompanied the "sweepers" to the Town Hall where he gored a runner. Not content with that, the José Escobar bull, left the oxen behind in Estafeta Street and galloped alone to gore another runner in the stretch of Telefónica. Finally "Señorita" took four minutes and one second to cover the route.
The rest of the herd ran in a compact group at the beginning of the "encierro", eating up the slope of Santo Domingo and the plaza of the Town Hall with no problems until one of the bulls slipped in the curve of Mercaderes and caused a small pile-up his brothers. After struggling to stand up, the group continued on, permitting beautiful runs in Estafeta Street in spite of many Saturday runners who insisted on touching the animals, causing danger to others.  With no other incidents, they entered the ring, and three of them ran straight to the entrance to the corrals, while the other two appeared unsure where to go, causing panic to those beside the barricades before leaving the sand.
Today was somewhat like two "encierros" – one with five bulls, practically with no incidents, and the other, with one bull, that caused at least two gorings.