Would you like to take home a dried bull?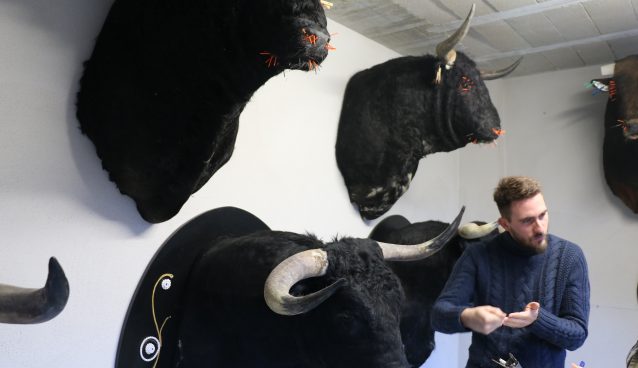 Many bullfighters will tell you that they don´t watch the horns of the bull so much as the "look" in the animal´s eyes.   During the fight in the ring, matador and bull maintain an eye contact that creates a relationship between them long after the bull is dead.  Javier González Celay, a young taxidermist from Pamplona, believes that this link is so intense that "even sentiments and concrete emotions are exchanged between them."  This is the reason why González Celay tries to recreate these same feelings and expression when he dries a bull´s head or an entire bull in his workshop, located in the small village of Iratxeta, Navarra.
González Celay explains that those who want a particular bull dried, or as he prefers – naturalized – make available to him many photos of the animal, when it was alive, in all the parts of the fight to be able to choose that one look that he believes connected with the bullfighter.  "The rest is intuition".
This taxidermist, who is also a journalist,  sells his work to museums, bullfighters, fans of the bullfight, runners in the "Encierro" and "cortadores" of bulls who are very brave men "cutting off" the bull´s path towards them with their quick and often beautiful movements.  You can buy one, too, if you pay between 850 and 1,200 euros and don´t plan to return home on an airplane.
Only five years ago, González Celay began this new venture.  Before that he worked as a journalist specialized in bullfighting, created his own agency  worked in the radio, television his own documentary production company and wrote articles.  He began running the "encierro" in 2002, but a ligament injury put an end to that part of Sanfermines for him.  Then what had always been a passion passed from being a hobby to a business. In 2015 he sold 20 mounted bull heads and now is "naturalizing" several entire bulls. Without anyone showing him the way, he studied, read and "practiced" on drying animals or wild birds that had been hunted.  "People began asking for bulls, so I decided to make taxidermy my way of life. " It included all that was important to me – art, animals and especially bulls."

How to dry or preserve a bull´s head
His approach is both artistic and handcrafted.  The process begins with sculpting a form with muscles and  correct proportions, done with light materials to be able to later place the tanned hide on the mould until it transmits life as realistically as possible.  Each head is different as if the animal were still in the ring watching his opponent.
The process takes six months of work. First the head is cleaned, then tanned using tanning baths for 15 days.  At this point, the hide in no longer perishable – somewhat like the process for shoes or upholstery.  "Meanwhile I begin to make the mould from cardboard and expanding polyurethane – it´s  like sculpting done by hand. Once this is finished, I sand it and apply a thin coat of plaster.  One of the last steps is to place the skin on the mould and sew it."  González Celay buys glass eyes from the United States and from Germany.  The horns are also treated and cleaned.  The tongues are of clay.  Then the taxidermist mounts the head on an ornate or plain backing, according to the client´s taste.
As someone who has always communicated with or about bulls, and, unlike those of more commercial companies of taxidermy,  González Celay sits for  hours before the finished bull, thinking about its life, how the animal lived it and how it died before the client claims his prize.
PICTURES: Iñaki Oroz, Javier González Celay