Awards Ceremony of the VI International photography Contest held this morning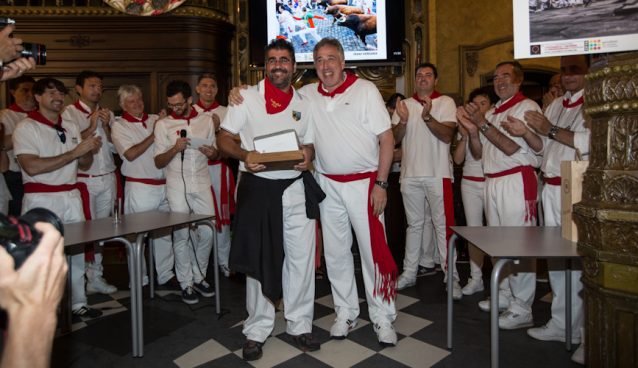 The awards ceremony of the VI edition of the International Photography Contest of the "Encierro" organized by the Association of journalists of Navarra and the MECA, took place this morning in the Café Iruña, one of Ernest Hemingway´s favorite cafés,  with the winner being Iñaki Vergara for his photo of the stretch of Duque de Ahumada Street.  The mayor of Pamplona, Joseba Asirón, was delighted to give him his prize – a cobblestone taken from the route of the "encierro" and 1,000 euros.  The mayor joked about the weight of the cobblestone over which thousands of runners have raced ahead of the bulls. Asirón also congratulated all the photographers who showed the magical side of the running of the bulls and its beauty.
Other original prizes were wooden fragments of the barrier of the route.  In addition to these prizes, the winners also took home bottles of Magnum de Reserva from Bodegas Chivite, handed to them by its representative, José Luis Díaz.  One of the most emotional  winners  was Juan Yeregui, journalist from Radio Nacional, whom everyone greeted and congratulated on returning to work after an illness kept him from the microphones.
The first prize went to Iñaki Vergara and the second prize, to Ricardo Badenes  who dedicated his award to his father who had passed away but had transmitted his love for San Fermín and Pamplona to his son, Ricardo.
Prizes given per stretch of the "encierro" were for the following:  Miguel Fernández  for the stretch of Santo Domingo, sponsored by El Corte Inglés.  José A. Goñi  for the stretch of the Plaza Consistorial, sponsored by el Consejo Regulador D.O. Navarra.  The section of Mercaderes (Freixenet) went to Mikel Cía.
The best photograph of the stretch of the Curve of Mercaderes (Palacio Congresos Baluarte) went to Rubén Albarrán.  For the first part of Estafeta Street, sponsored by Centro Comercial Itaroa, the winner was David González del Campo.  Middle Estafeta Street (Chez Belagua) and for Duque de Ahumada (Reyno Gourmet) the winner was Iñaki Vergara.  The last stretch of Estafeta near the Hemingway monument (Rincón de Hemingway) and the Telefónica Curve went to Óscar Jiménez, sponsored by La Botería.  The entrance to the ring – la Bajada Callejon (Turismo Reyno de Navarra) went to Ricardo Badenas. The Callejón (Obra Social La Caixa) went to Carlos Mediavilla.  The prize for the best photo in the bull ring had no winner this time, but three photos recieved Special Mention:  two by Jesús Diges and one by Jim Hollander.  The photo most voted for by the public when the works were on display in the Centro Comercial Itaroa was the talented photographer, Eva Sánchez.