The campaign against sexist assaults in sanfermines 2016 uses a traffic light symbol for acceptable or non acceptable conducts and behavior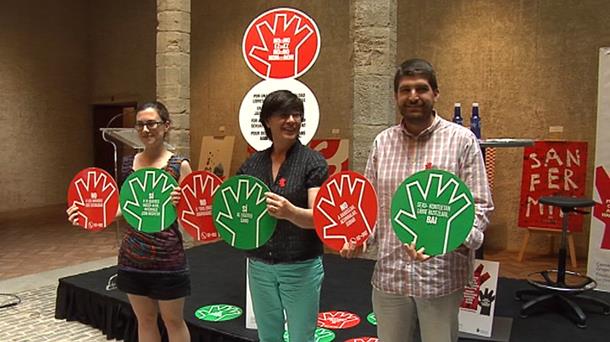 An information point will again be located in the Plaza del Castillo, and a study will be made about attitudes that accompany these sexist aggressions during the fiesta.
This year if you see a symbol of a hand again, meaning "stop to sexist aggressions", the colors red and green will have been added to symbolize a traffic light.  Other actions will be undertaken during the fiesta such as a study on the attitudes that accompany sexist aggressions during fiestas in places with high consumption of alcohol and drugs, and the information stand in the Plaza will continue to be there. This year there will also be a telephone number that can be called 24 hours a day to help women in cases of aggression.
The council member for Equality and LGTB,  Laura Berro;  the council delegate for Citizen Safety and Coexistence, Aritz Romeo;  the council delegate of Social Action and Community Development, Edurne Eguino and Pilar Mayo for Equality of the Town Hall and coordinator of the Sanfermin Group of Equality have presented this year's campaign  against sexist aggression in San Fermín.  The message of "For fiestas free of sexist aggressions" is joined to the idea of equality in Sanfermines.
The web and other social media will be used to post photographs of people with a red or green circle –like a traffic light – with phrases like "Don´t touch my bottom" or "Don´t take my clothes off when you look at me."  Or "Yes to my beauty without stereotypes…"   Round sheets of paper with one of these phrases in green or red inside will be distributed.  The cover will also have one of the phrases, and you can take photos of San Fermín with it and post them on the web.
There will also be a code QR that permits access to contents, subtitled in four languages. All this was done with the help of four centers of  employment and with those with disabilities such as the making of 20,000 pins of "red hands"
The campaign is a proposal by the Grupo Sanfermines en Igualdad, created in 2014 within the Municipal Council for Women.  As a group, they participate in the Mesa General de los Sanfermines and in the Mesa de Igualdad, created in this legislature and has reached out to all other initiatives in Sanfermines to include equality in the fiestas with 43 proposals.
Information en la plaza del castillo and study about attitudes that lead to aggressions
For the second consecutive year, the Plaza del Castillo will have a point of information about the campaign and with help for sexist actions.  The newest addition is a telephone that for 24 hours a day can be called for help by women who have been victims of sexist actions.  The point of information will be open from noon to 2 p.m. and from 6 p.m. to midnight.
The study of what motivates sexist aggressions during Sanfermines will consist of 600 surveys, done by people who will have, at the same time, others who can inform  participating in the fiesta.  Comments, etc about this topic in the social media will also be analyzed to make proposals for next year.
These Sanfermines, the Town Hall repeats the special service of the Municipal Police during the "Chupinazo" – which signals the beginning of the fiesta – with high definition cameras to prevent sexist aggressions.  More police will be watching zones especially vulnerable to these acts, such as the walls or around the fair.  Assistants of Civil Protection have also been given basic training on sexist aggressions.
Urban and regional transportation campaign
The Town Hall, the Mancomunidad of the region of Pamplona and urban transport TCC  have reached an agreement of collaboration with the city buses  – the Villavesas – to join in the initiative.  The "red hand" will be present on them, and 400 pins will be given to bus drivers during Sanfermines to wear.  The symbolic pin will be present on stages and other scenes of San Fermin, such as on the façade of a building in construction in the Town Hall plaza.
There have published 20,000 guide booklets in four languages (Spanish, Euskera, English and French) on "How to identify sexist violence, how to stop it and how to react or look for help and attention.  Some 20,000 "red hand" pins will be given out to fiesta-goers.  It will also be present in bars, napkins, signs or municipal instructions with the image of the campaign.  Also you can read about it in the press or watch information on television, on the municipal web or in the fiesta official program.  The OIP or International Press Office in the Baluarte can also inform you on ways to correctly cover the campaign.
Women in Sanfermines want to be free and not brave.  Various acts and classes of instruction have been carried out to help women affront this problem.  In June, two sessions for women were held to help them identify on a map of Pamplona the more dangerous zones.
Objectives of the campaign
The objective of the Town Hall is to make the public aware of sexist aggressions and make organizations and individuals part of the initiative and to make fiesta areas safer with respect of men and women, which permits everyone to enjoy themselves without fear or violence.
Another important facet of the campaign is to point out behaviours that are acceptable and those that are not and gather information from citizens about positive and negative situations, lived or seen by women and men and their reactions to them.  To improve the concept of equality in all aspects of the fiesta and identify attitudes that accompany conducts of aggression towards women in areas where high consumption of alcohol and drugs have been noted.