The Victoriano del Río bulls ran the longest encierro of Sanfermines 2019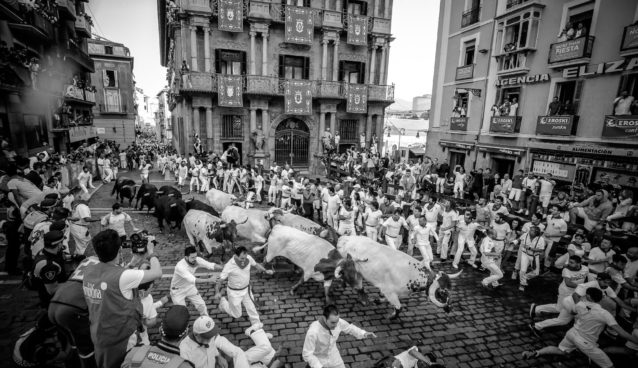 What began as an encierro today without danger and led by oxen ended in a race of two minutes and 49 seconds, with  five runners, numerous contusions and one horn injury.
The first medical report showed that six runners had been taken to the hospital complex, one of whom had been injured by the horn of a bull in the right arm. He is a 39-year old  male from Palma de Mallorca – moderately serious. The five other injured suffered contusions. Four of those with contusions have been released from hospital. The fifth – with a dorsal traumatism is, at present, under observation. More information, here.
The bulls of the ranch Victoriano del Río from Madrid, traditionally protagonists of clean, fast encierros had a surprise for the runners on July 11.  They took two minutes and 49 seconds to reach the ring in the longest encierro yet. Until arriving at Estafeta street, the bulls, surrounded by oxen, galoped together and ran fast, provoking a multitude of falls by the runners.  Not even in the curve of Mercaderes did the bulls fall. In the first stretch of Estafeta street, the herd went into high gear. At this point, bulls and oxen were divided into two groups, and the encierro became the best one to run in in these Sanfermines, and some were able to execute the run of a lifetime.
The herd continued through Estafeta and Telefónica on down to the corrals of the ring, in which the bulls entered in groups of two, the first of them with oxen.  The long duration of the encierro was partly caused by the last bull when it entered the ring with another bull and lost its way until it was finally guided into the corrals. The encierro lasted 15 seconds more for this reason.
Protests before the encierro
The fifth encierro of Sanfermines 2019 will be known for its controversy.  Before its beginning, some runners on the stretches of Estafeta and the curve of Mercaderes sat down on the cobblestones to protest what they called, "Predictable encierros"  For some participants, the encierro has lost its essence, and the oxen move in too close to the bulls, making more work for the runners. The protesters also think the bulls are too trained for the encierro.
Today's bullfight
The bulls of Victoriano del Río will be fought this afternoon by Antonio Ferrera and by Julián López "El Juli", who has had the honor of passing through the grand doors of the bullring of Pamplona 11 times, and Pablo Aguado.