Robert Knjaz, producer of Croatian National TV HRT, is no stranger to fiestas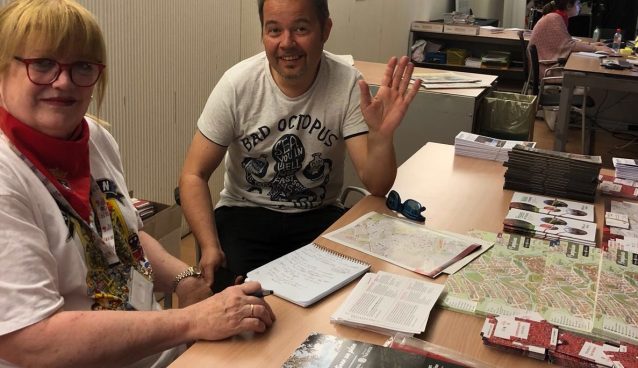 Robert Knjaz, producer of Croatian National TV HRT, is no stranger to fiestas, but he had never seen one like Sanfermines.  This smiling and extremely nice man ran in every encierro, amazed by the number of people in the street and the speed of the bulls. "This was our first time to come to Sanfermines, and it was an incredible, intense experience. You start running fast, and then the fear sets in.  So many, many people!"
Today Croacia is in fashion as a vacation spot. Many think it is due in part to its unusual fiestas and the Dalmation dog, whose images can be seen in paintings from the XVI century. Movies have also been filmed there as well as TV series. It is estimated that almost half of the 16 million Europeans who visited Croacia last year did so because the British "Game of Thrones" was partially set there.
Robert Knjaz described a bullfight in his country where there are no matadors. " There two bulls fight each other, and the stronger one is the winner. Remember that the bulls weigh 800 kilos."
One very popular fiesta involves pirates.  The Omis Pirates were the most fearsome roaming the Mediterranean Sea in the 12th and the 13th century.  These pirates ruled the Adriatic for more than three centuries until 1420 when the whole of Dalmatia, except for Omis fell under the Venetian Republic, the most powerful naval force of those times.  The pirates of Omis defended themselves for 24 years. In 1444, Omis fell into the hands of Venice, and piracy was finished.
There is now an annual carnival on the Croatian island, celebrating the defeat of the pirates. Other unusual fiestas include a great carnaval on one island, Murter. A grand quantity of snow is taken there for a ski competition.  There is also a "Miss Goat" competition and another for the prettiest toes.
"We love the food here in Navarra, and I think that the prices are very fair.  It is a wonderful fiesta!".