Sporty Sanfermines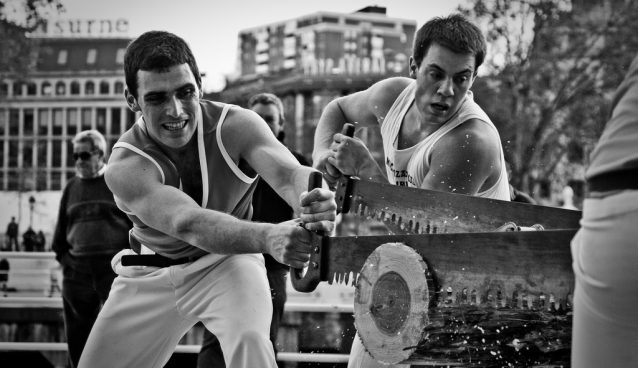 Sanfermines also offers you the opportunity to enjoy watching sports.  The one that draws the most attention and number of people is Basque handball or "pelota" contests, held in the Frontón Labrit de Pamplona.  Here you can see "pelota" players such as Martínez de Irujo, Olaiozola, Merino II or Albisu, among other famous professionals, hit the ball with their hands at an incredible speed.  This year they are competing for the "txapela" or Basque beret in the Labrit.
There are also opportunities to watch other types of handball.   "Remonte" is when the ball is not caught in the basket attached to their  wrists, but hit as if it were a tennis ball. "Cesta Punta" is when the ball is caught in the basket before throwing it back or against the wall.
The record was established by José Ramón Areitio from Vizcaya in the Newport Jai Alai of Rhode Island in 1979 who sent the ball flying at 302 miles per hour.
There are other sports events during Sanfermines – from rural sports, in the Plaza de los Fueros, where men, called in Basque,  "aizkolaris" test their tremendous strength cutting tree trunks at an amazing speed.  Or the "harrijasoketas" who compete by lifting extremely heavy weights of more than 300 kilos.  The record held now belongs to Mieltxo Saralegi, who lifted 329 kilos as if it were nothing,
If you arrive in Pamplona right before Sanfermines at the end of June, there are marathons to practice running from the bulls. The races takes place in the streets of the city.  This year more than 2,700 participated.